Turns out Bing is more than just a
punny name
. I got my preview code for
Bing
on Friday so I've had a few days to play around with Microsoft's new "
decision engine
."
I'll spare you the in-depth review because I don't think either of us have the attention span for that. Instead, I'll share some quick thoughts and screenshots of Bing's most notable features.
Bottom line , Bing is far and away the most serious challenge to Google that anyone's ever posed
.
Sure other platforms have come along recently with Google-killer potential (eg,
Hunch, the "original" decision engine
and
Wolfram Alpha, the computational knowledge engine
) but they only show potential and, frankly, don't aspire to kill Google, rather complement it. Regardless, these tools are not ready for prime-time and require significant ramp up before they can capture significant query share.
Bing, on the other hand, is ready now. It already has an
8% share of US queries
(which isn't anything to brag about but it's not starting from zero) and, more importantly, it stacks up well against Google in terms of day-in, day-out relevance for your average query.
Furthermore, Bing trumps Google for a number of categories like video and image search and verticals like entertainment, travel, auto, sports, and, dare I say, news and shopping. Plus it has some cool built-in exploratory features if you're just looking to browse and not yet ready to, er... decide.
To be clear, I'm not suggesting that Bing will overtake Google's search share or match its revenue anytime soon.
There are a number of things that have to happen first before that outcome becomes realistic and I plan to cover those in Wed's Search Insider column. That said, Bing is a giant leap forward for Microsoft and I commend Irving Kwong and his team for what they've accomplished here.
So let's get to it. Following is a quick rundown of Bing are some of the features that jumped out at me over the past few days...
Here's the Bing homepage. Not much different than what we've become accustomed to on Live Search with eye-catching images that allow you to roll-over various hot spots and learn more about the featured place, topic, etc. The idea here being that Bing can be a destination (effectively helping people "decide" things like "How should I kill the next hour?") as much as it can a place to search and find a specific piece of information...
Click image for larger view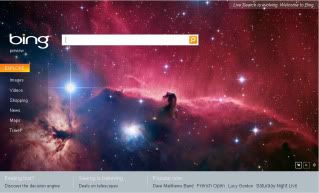 Here's a close-up of the roll-over...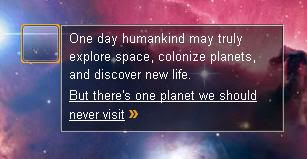 There are a few notable differences from the current Live Search homepage. First is the left-hand nav. further encouraging you to explore if you're not looking for something specific at the moment. I like how they've taken the verticals that they're strongest in and asked people to give them a try. This differs from the standard format Live Search, Google, et. al. use with images, video, etc. all listed as tabs above the search bar...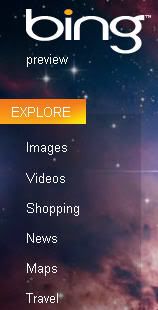 Recall the Live Search format which mirrors Google...

You'll also notice a few calls-to-action along the bottom of the homepage. The first gives people a chance to "Discover Bing" and links to
DecisionEngine.com
...

The second is an overt attempt to get people to start thing commercially from the outset. This unit correlates to the image on the Bing homepage and a click here takes you to a page on Bing shopping for the query "telescopes"...

The third tile is another exploratory feature that shows queries that are "popular now"...

Being the
vanity searcher that I am
, my first query on Bing was for "
Aaron Goldman
." Now I know what this page should look like. I know what assets I have out there as well as what those competing Aaron Goldmans have going for them. Let's just say that, when it comes to showing the most important results, Bing got it right on Page 1 with just 2 exceptions -- that pesky physicist in Denver and the dot-org parker...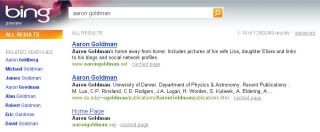 Notice the related searches on the left. More on these handy refinement tools shortly but, for now, suffice it to say that
I get the Aaron Goldberg thing a lot
...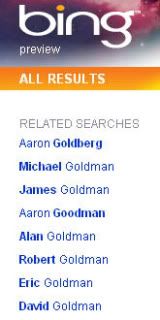 One new feature of Bing that caught my eye was the ability to see your query in context on the destination page straight from the SERP. When you roll over a listing, you'll see a subtle orange dot and line appear in the white space to the right of the listing. Hovering long enough will pull up a box that shows a snippet from that page. My understanding is that Bing is sniffing the page for occurrences of the search query and shows the text around it.
Anyone remember the
Ask binoculars
? This seems to be a little more practical application of that feature -- after all, what can you really tell from a thumbnail of an entire page? Here I just get the surrounding text that will tell me if this site is what I'm looking for. This feature seems to be a bit hit or miss though. Here's what comes up when rolling over the listing for
AaronGoldman.net
. Not really that helpful -- just pulls out my email address...

Here's a closeup...
But it does work nicely when rolling over the
Connectual.com
listing. I wonder if webmasters will be able to control what Bing pulls thru to the snippets?

And a closeup...
After my vanity search, I decided to browse a bit and went back to the
homepage
. My first click was
News
. It reads almost like a newspaper with what Bing deems the most important stories on top (curious as to the methodology here), local news along the right (geo-targeted I'm assuming based on IP), followed by news videos and then sections for World, U.S., Business, Entertainment, Sports, etc. Looks like Google ain't the only one putting the newspapers out of business...
Click image for larger view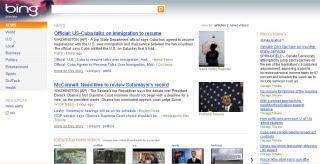 An important theme to point out that runs throughout Bing is the refinement tools located on the left-hand nav. No matter what query or browsing you're conducting, Bing shows you related topics, refinement options and other handy drill-downs. Here's a close-up of the options after clicking news off the homepage. Again, reads almost like a newspaper index...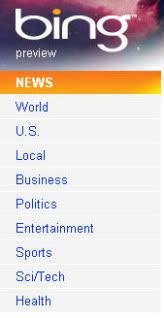 Here's an example of the refinement options for the "telescope" query. Notice the variants on the product as well as semantically linked topics along with drill-down for location and sources...

And here are the refinement options for a "telescope" query in Bing shopping...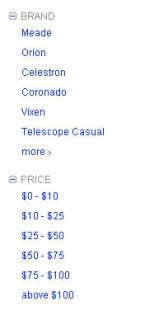 Here's the full Bing shopping SERP for "telescope." Notice the deep
cashback
integration as well as the images, price, and ratings all in the body of the results...
Click image for larger view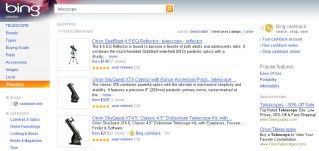 One other thing to point out as we're looking at the left-hand nav -- on most results pages, there's a "search history" box showing a running list of recent queries. Note to self: disable on home computer shared with wife...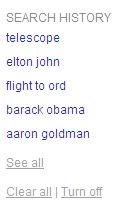 Here's a look at Bing Shopping if you just navigated directly to it from the homepage as opposed to via query. It almost resembles a mall with featured products based on seasonality and "products people are talking about" (complete with reviews)...
Click image for larger view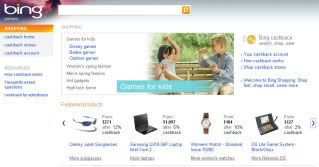 Here's Bing Travel, again via direct homeage nav not thru a query. Feels almost portal-like, right? But all the content is based on the algo, not human editors -- which is a big differentiator from old-school portals as I pointed out in my recent Search Insider column, "
Is Twitter to Facebook as Yahoo is to Google?
" This page looks kind of like
SideStep
from the functionality down to the color scheme...
Click image for larger view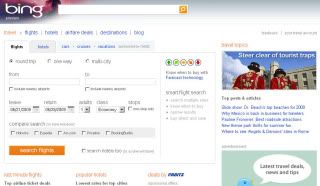 What really jumped out at me on the Travel page was the heavy advertising integration including Orbitz sponsored links...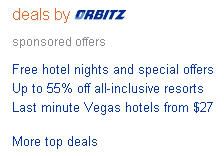 And what do we have here? Is that (gasp!) a display ad on the right rail?!? Now I couldn't replicate this with any other query so let's not jump to the conclusion that Microsoft has finally answered the question, "
When will we see display ads on search results pages?
" But it's nice to see that they understand that, when it comes to creating a good consumer experience (and corresponding monetization),
it ain't the blue links
alone that git 'r done.

For what it's worth, I'd love to see display ads appear where the rollover snippet does now. Give brands the opportunity to buy a rich media unit against their natural listing. This format would keep it non-intrusive and user-initiated and give brands the opportunity to show consumers what they think is most relevant to the query.

Here's a closeup of that display ad. Apparently it's just a house ad for Farecast but the precedent has been set...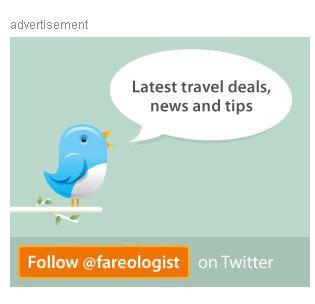 Another major departure from search engine norms is the "official site" designation that Bing gives to brands/publishers that it believes are the best match for a query. Not only is there a "best match" and "official site" label in these instances but Bing returns multiple assets and drill-downs for those brands on Page 1 of the SERP.

The example the Microsoft folks use to demo this feature is Target -- an odd choice given the ambiguity of the term "Target" which could be searched by shoppers and marksmen alike. That aside, let's look at the "Target" SERP. You'll see first the basic result with sitelinks. Then a search within the site box. Then Maps for local stores followed by 4 other Target-related sites...



Click image for larger view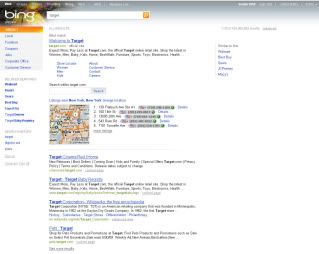 Here's a closeup of the maps...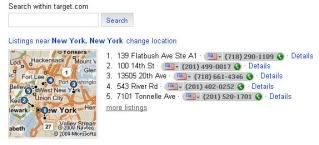 As you scroll down the page, it reads almost like a Target catalog with sections for furniture, coupons, jobs and customer service.
Click image for larger view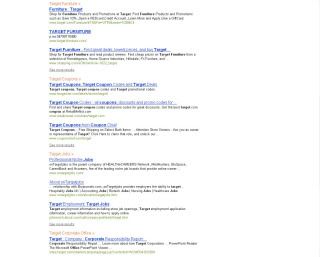 Holy scrolling Batman! This is still page 1 of the SERP...
Click image for larger view




I'm amazed by how much real-estate has been given to one brand here, especially given the ambiguity of the query. That said, if Microsoft's internal data shows that this is far and away the result that searchers prefer, I can't blame them for short-cutting the "decision" process and short-changing other potential results for "Target."

You'd think this real-estate grant for brands would apply across the board, right? Heh. Not quite. Check out the SERP for the query, "Google." Yep, that's right just one listing for Google.com and no other results below it...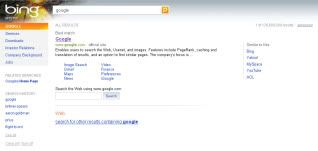 And a not-so-subtle "similar searches" list right next to it with (surprise!) Bing at the top.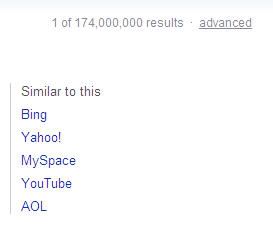 Really, all anybody could be looking for with the query "Google" is Google.com?? What about a journalist or student researching Google and wanted to see other sites that mention Google? It says there are 174 million results for "Google" -- so where are they??? Even the left-hand drilldown nav for the "Google" query is not helpful for those seeking any other content related to Google. Is this by design???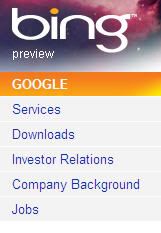 OK, enough conspiracy theories. There are yet more interesting things to highlight -- so much for not doing an in-depth review, aye? Here's what comes up for a sports team query, in this case, "Chicago Cubs"...





Here's what you get when searching for airline flights, say, "Flight to ORD"...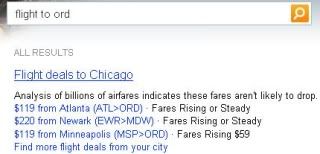 Vehicle searches bring up some nifty MSN Auto integration with price, MPG, and ratings. Here's what you get with a "Prius" query...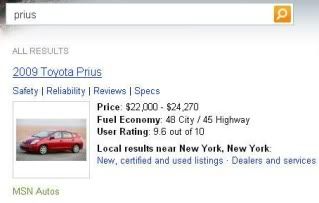 Movie queries return showtimes, reviews, running-time and other goodies. Here's "I Love You Man"...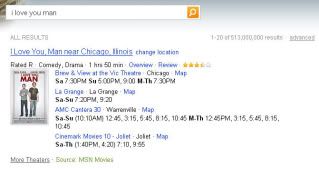 Nothing new here but binging (yeah, I said it) "Weather + Zip" gives you instant forecasts...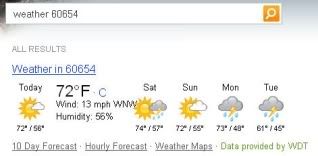 Another cool feature is that when video results come up, you can roll over them with your mouse to auto-play a portion of the clip right on the SERP (ooh, the video content sites will loooove this -- perhaps another swipe at Google, keeping people on Bing longer before sending to YouTube, if sending them at all??) Here's "Susan Boyle" doing her thang...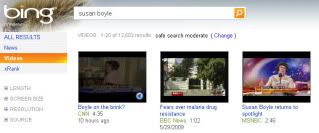 Bing really does perform well for entertainment queries. "Elton John," for example, returns a nice blend of Universal results. Similar to "Target," the SERP is quite meaty and had me scrolling for a while. Interesting how Bing varies the format and length of the SERP based on the predicted intent of the searcher -- navigational, commercial, or just browsing. Google typically defaults to 10-ish Page 1 listings no matter what the query. The only thing it changes is the content-types -- news, video, images, maps, etc.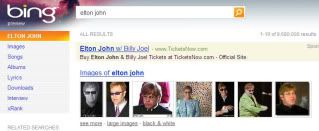 Of note on the "Elton John" SERP was something called "xRank" which is similar to Google trends...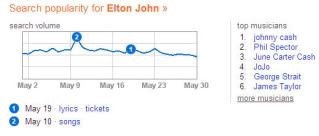 OK, I'm going to stop here for a few reasons:
1. This post is already way longer than I intended
2. You'll all get to see this for yourselves in just a few days when Bing goes live to the public so you don't have to rely on my screenshots
3.
It's going to take more than some nifty "one-box" results and refinement tools for Bing to overtake Google and just showing the best of Bing does not tell the whole story of what this launch means for the search world.
To that end, I'll pick up this thread in my Search Insider column on Wed. Meantime, it's back to binging for me.

Update 6/2: Yeah, about that whole Bing stacking up well against Google in terms of "day-in, day-out relevance for your average query" thing...

Having now used Bing for 5 straight days as my default engine, I'm noticing relevancy issues for many long tail queries. Here are 3 quick examples:
For whatever reason, the query "Flight to ORD" returned integrated results from Farecast (see above) but "Flight SFO to ORD" didn't and the first result hardly matches my commercial intent...
Click image for larger view
Click image for larger view
Here are the top 5 results for "kids toys" -- where's Toys R Us? And where's the shopping/cashback integration?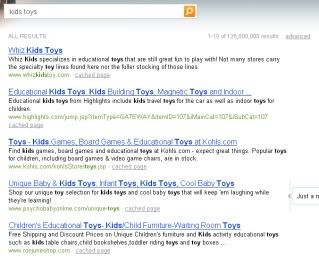 And here's a real long tail query I performed while researching my Search Insider column for tomorrow. I had just read a post on Steve Rubel's blog re: Twitter Search traffic and was trying to navigate back to it via Bing (aka Binging it) but all I got was the blog main page and another blog that regurgitated the content. Sure enough, the actual post was the top result on Google...
Click image for larger view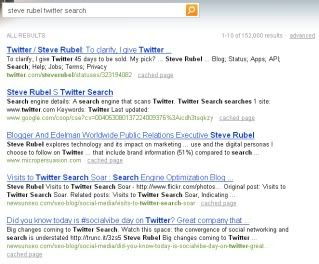 If Bing wants to really compete with Google, it's going to have to step up its algo/filter. I'm sure I'm not alone when I say that my choice of default search engine depends on the lowest common denominator -- ie, performance against obscure queries. I just don't have the patience to toggle back and forth between engines, Binging sports, movies, and entertainment and then Googling that "hard to find" information.