Google recently rolled out some
new search filtering features
. One of them is called the "Wonder Wheel" which connects your query to other semantically-related queries/topics.
As always with all new search tools
, I was quick to run a vanity search to see what it means for my personal brand.
Below is a screenshot of
what the Wonder Wheel deemed relevant to "Aaron Goldman."
Click the image for a larger view or, I'll spare you the clickage, by telling you the 2 terms are "SEO Blog" and "David Berkowitz."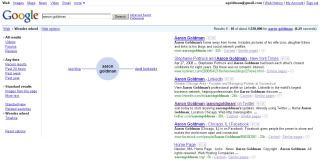 Very interesting...I just hope Google thinks I'm related to the David Berkowitz that's a
digital marketing guru
and not the
Son of Sam
.
Although I guess we Jews all go back to Moses.