My
Search Insider
column today was originally attributed to Gord Hotchkiss...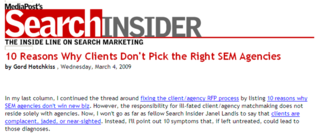 I ain't complaining though -- it's quite the compliment for your writing is mistaken for Gord's!
Media Post did run a correction and Gord set the record straight in the
comments
so my cover was blown.
Here's the blurb...
10 Reasons Why Clients Don't Pick the Right SEM Agencies
In my last column, I continued the thread around
fixing the client/agency RFP process
by listing
10 reasons why SEM agencies don't win new biz
. However, the responsibility for ill-fated client/agency matchmaking does not reside solely with agencies. Now, I won't go as far as fellow Search Insider Janel Landis to say that
clients are complacent, jaded, or near-sighted
. Instead, I'll point out 10 symptoms that, if left untreated, could lead to those diagnoses.